place Google AdSense code here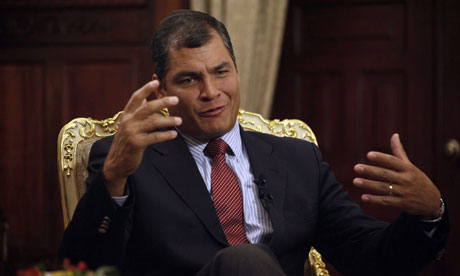 Hacktivism has been finding momentum these days. Hackers are actively targeting high profile websites and social networking accounts to propagate their ideologies. 
Ecuador President Rafael Correa's twitter account was hacked last day and the hacker posted messages and linked that criticized his government and its policies. 
 One of the messages featured a link to an Anonymous Ecuador webpage on which were posted emails allegedly intercepted from government officials that related to security and intelligence matters. Correa has accused left wing of hacking his account and of promoting hatred.
 Ecuador's Interior Ministry and the National Intelligence Secretariat has denounced the attack saying it is intolerable. 
Mr Correa is an active twitter user with 1.5 million followers. Several of msgs posted on his account by the hacker have now been removed. Correa has told that his email address was also comprised last year but he recovered it and had to change the password. 
He condemned the attack saying, " "Apparently the attacks are by the extreme right of certain foreign countries, in complicity with unscrupulous national opponents."